The prestigious Tulsi Meher Social Service Award for 1996 by the Social Welfare Council, handed over by H.E. Prime Minister Sher Bahadur Deuba. (Tulsi Meher, who initiated many socail activities in Nepal, is a follower of Mahatma Gandhi
The Government of Nepal also honoured and celebrated the achievements of the clinic by issuing a special postage stamp commemorating the clinic's Golden Jubilee on February 6, 2007.
Outstanding Nominee Award for Oral Health Awareness Award set up by the Ministry of Health, Government of Nepal in 2002 and in 2003.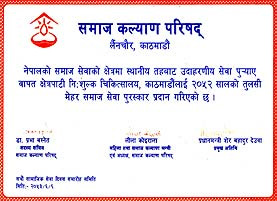 TulsiMeher Social Service Award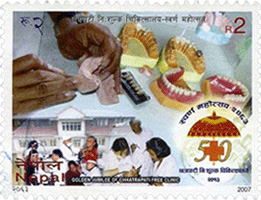 50th Anniversary Postage Stamp

Oral Health Award